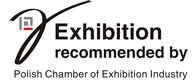 They were with us in 2018

18.04.2019
May the Easter time be filled with all colors of the rainbow, spring-like atmosphere and smile, and may it be a break from everyday life.
28.02.2019
Have you noticed that there is a lot going on in the Polish funeral market, that there has been an accelerated shift towards the implementation of information technologies, products and services focusing on the emotions associated with mourning? Find inspiration in the latest issue of OMEGA magazine!
14.01.2019
On the OltreMagazine.com industry portal, there was published a report from visit of the board of the FIAT-IFTA industry association at the funeral fair MEMENTO Poznań 2018.
More news
---

Let's meet in 2020!
Next edition in November 2020!