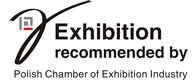 They are with us in 2018

05.11.2018
We encourage you to familiarize yourself with the schedule of events taking place at the Funeral Fair MEMENTO Poznań.
02.11.2018
Do not miss the latest issue of OMEGA magazine! Here you will find a dose of inspiration and a special supplement - Visitor's Guide for MEMENTO Poznań 2018, which contains useful information such as the catalog of exhibitors, descriptions of the latest products, exhibition plan, practical information and the program.
29.08.2018
It all starts with the words "I want", "I can". Find out by reading the latest issue of "OMEGA. Idea Book for the Funeral Industry".
More news
---

Let's meet in 2018!
Next edition of Funeral Fair Memento Poznan: 17-19 November 2018