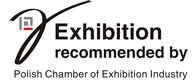 Participation in the 2020 announced i.a.:

05.06.2020
Discover the new face of "OMEGA.Idea Book for the funeral industry". Click on the marked places - see what will happen!
03.03.2020
There is no end to our search for new funeral products and services. We look forward to new initiatives, follow them closely and present them to you in this magazine.Due to the situation related to coronavirus infection in Poland and worldwide, this edition is also available online.
06.12.2019
Grupa MTP, Poland's largest organiser of trade fairs, conferences and congresses, intensifies the fight against intellectual property rights infringements during its events. Together with one of the largest Polish law firms − SMM Legal, MTP Poznan Expo implement an innovative project that allows exhibitors to quickly resolve disputes concerning intellectual property − IP Friendly.
More news
---

Let's meet in 2020!
Next edition in November 2020!