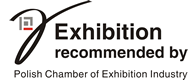 14.02.2018
MEMENTO Poznan - the fair for entrepreneurs from the funeral industry with the longest tradition. Show new products, present the offer!
03.11.2017
The end of the year is a time to reflect upon, sum up the past and make plans for the future. What was the passing year like? Where are we headed? What do we want to achieve? We hope that it was a good year for you and that the next one will be even better! We trust that OMEGA Idea Book, a magazine for the funeral industry will still be a friend and partner for you to develop every day. Feel invited to read the latest issue of the magazine!
30.10.2017
We are presenting you with the latest interactive issue of Poznań Fair Magazine "Calendar of trade fair in 2018". It is absolutely unique publication onto polish market! We invite you to click!
More news
---

Let's meet in 2018!
Next edition of Funeral Fair Memento Poznan: 17-19 November 2018